CNN
updated 8:03 PM EDT, Thu October 6, 2011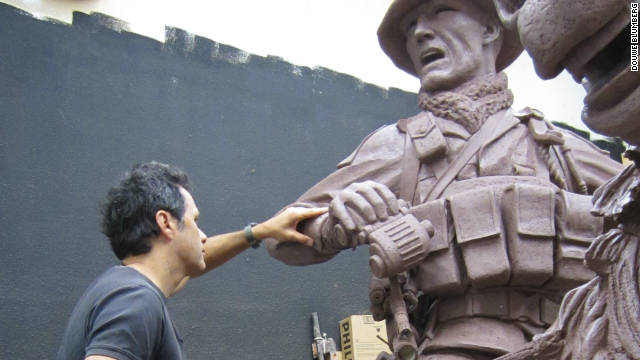 Artist Douwe Blumberg puts final touches on a clay sculpture that will honor U.S. special operations forces.
Editor's note: Freelance war correspondent Alex Quade spent nearly 18 months in Iraq and Afghanistan covering U.S. special operations forces on combat missions, including for CNN.
Demossville, Kentucky (CNN) -- The U.S. special operations teams that led the American invasion in Afghanistan a decade ago did something that no American military had done since the last century: ride horses into combat.
"It was like out of the Old Testament," says Lt. Col. Max Bowers, retired Green Beret, who commanded the three horseback teams.
"You expected Cecil B. DeMille to be filming and Charlton Heston to walk out."
Bowers spoke while sitting in the rural Kentucky studio of sculptor Douwe Blumberg, along with three of his former "horse soldiers."
They, along with 30 fellow commandos on horseback, are the inspiration for a new monument that Blumberg is creating, dedicated to the entire U.S. special operations community.
The statue is scheduled to be erected across from the World Trade Center site in New York on November 11, Veterans Day. The artist rounded up these "horse soldiers" to share their personal stories and mission photos as inspiration for the 18-foot, bronze monument.
Read MORE...