City Watch Los Angeles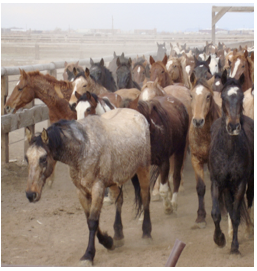 ANIMAL RIGHTS - In September, my wife and I drove to Lompoc for the season's final wild horse walk at the 300-acre
Return to Freedom ranch
.
The walks will begin again in the spring, and if you aren't moved by what you see and hear from the ranch's staff, you haven't got a caring bone in your body.
It seems absurd to think that Africa would not attempt to preserve its wild animals.
In the United States, wild horses face an incredibly difficult battle, and its supporters are fighting an uphill battle against those who want public lands used for their purposes.

The wild horses are up against cattle ranchers, hunters, geothermal energy producers, and the natural gas frackers. And since wild horses don't produce revenue, the odds are stacked against them.

The Bureau of Land Management and the Department of the Interior decided that there are too many wild horses on public lands, so they've been rounding them up using helicopters and inhumane traps to capture the horses and put them in holding pens for years -- 30,000 to 50,000 at the last estimate – at an annual cost to the taxpayers of $80 million.

Despite the fact that it's illegal to do so, the government has been turning a blind eye to well-known "kill buyers" who acquire the horses at government auctions for about $10 each, and truck them to Mexico and Canada where many of them are slaughtered while conscious.
Read MORE...