St. Louis Post-Dispatch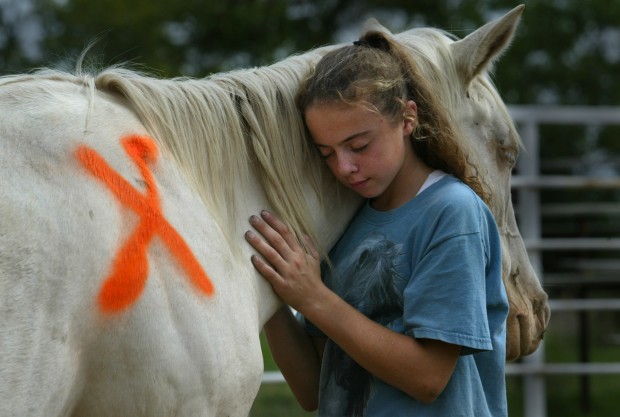 Cass Williams comforts one of 27 horses taken to St. Clair, Mo. after an accident on Interstate 44 on Sept. 27, 2006. A semi trailer carrying the horses to an Illinois slaughter house turned over near Staunton, killing 16. At a makeshift triage center, horses were spray painted with symbols to indicate which veterinarian treated the animal. Photo by Robert Cohen, rcohen@post-dispatch.com
The plant was supposed to open by summer's end, employing four dozen people.
It might not have been the most appealing work: butchering hundreds of horses each day to fill dinner plates in Europe. But Rockville, Mo., population 166, needed jobs. So residents had embraced turning a defunct beef processing plant into the nation's first horse slaughtering facility since 2006.
"The whole town is for it," proclaimed Mayor David Moore in June.
READ MORE...