Babaro's Legacy Lives On; Updated With Photo from Statue
Three years ago today was one of the saddest in recent memory for a lot of Thoroughbred racing fans. It was on that day, Jan. 29, 2007,that Kentucky Derby winner Barbaro lost his courageous battle for life.
Injured in the Preakness Stakes two weeks after winning the 2006 Derby, Barbaro underwent extensive surgery and recuperation to repair a shattered right hind leg. Both the injury and the exhaustive efforts to save the colt became headline news inside and outside racing circles, and Barbaro developed a following unprecedented by modern-day racing standards. He was well on his way to recovery from that injury when he developed a serious case of laminitis that led to the eventual painful decision by Dr. Dean Richardson to euthanize the colt at the University of Pennsylvania's new Bolton Center.
Although Barbaro died that day, his memory did not and his legacy continues to endure. He has been memorialized in a gleaming bronze statue that greets visitors to Churchill Downs and the Kentucky Derby Museum. Through the efforts of Barbaro's fans, mainly Fans of Barbaro, and his owners, Roy and Gretchen Jackson, millions of dollars were raised for laminitis research.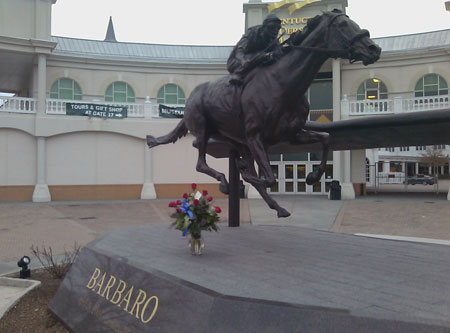 Barbaro is honored with flowers on his statue at Churchill Downs.

Photo by John Asher
And Barbaro's family continues to thrive on the track. One of his full brothers, Nicanor, was well on his way up the racing ladder when he was sidelined due to an injury last summer. Nicanor is now back in training and should make another start soon and another full brother, Lentenor, recently broke his maiden in impressive fashion on turf and looks as if he has a promising career ahead.
So today, pause for a moment to remember the great horse and/or make a contribution to laminitis research. He would thank you.
[Permission Pending.]